Candy Lee Is Indie Pro-Wrestling's Trans Icon
"I didn't know wrestling wasn't real until I started training!" Lee admits in this 2018 interview by Eric Shorey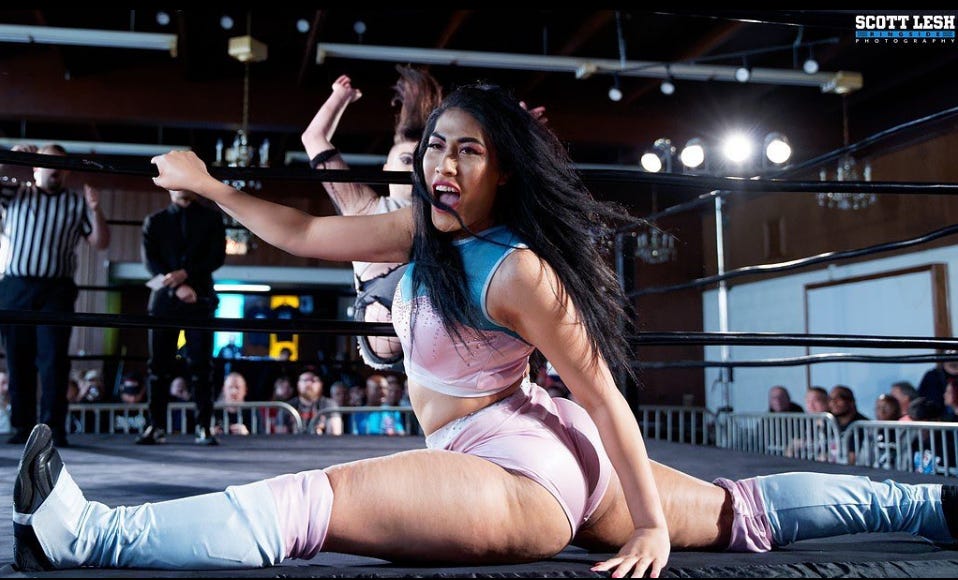 Photo by Scott Lesh (@scottlesh724)
[This interview originally ran on Intomore.com in 2018]
Although it often seems like a delicate dance of two-steps-forward-one-step-back for progressive pro-wrestling fans, it is undeniable that a surge of social change is making its way through the field. On the indies, female and queer stars are making huge names for themselves as beloved underdogs while empowered women and allies work towards mainstream acceptance in the WWE. It's not surprising that wrestling devotees haven't been particularly resistant to these changes, given the seemingly counterintuitive liberal leanings of the art form's fans.
Professional wrestler Candy Lee, who is openly transgender, has somewhat inadvertently found herself at the forefront of this new wave of diversity in the medium. As the current Impact Pro Wrestling New Zealand Women's champion, Lee has become an almost universally adored babyface (wrestling slang for hero) with fans around the globe.
Lee grew up in Samoa and moved to New Zealand when she was five years old. As a self-described "feminine little boy," Lee found herself enchanted by the glamour of the pro-wrestling world, despite her introverted personality.
"I rarely spoke, people thought I was mute – my family didn't get why I was so quiet," Lee tells INTO. "When I was on my own I was feminine. I loved putting T-shirts on my head and pretending I was a girl. I played with Barbie dolls. I didn't really know what the internet was until I got to high school, I was just closed off from the world. I read books."
"I was six years old [when I first started watching wrestling]," Lee continued. "My cousins put on the 2000 WWE Royal Rumble PPV. I was watching that and I was hooked. The first wrestlers I ever saw was Kurt Angle and Taz. After that, I was like, 'This is amazing. I don't know what this is, but I love it.'"
In the early 2000s, women's pro-wrestling was hardly wholesome — the WWE was deep in the so-called "Attitude Era" at the time, a phase in which the company aimed for sleaze and shock value, often populating their shows with overtly misogynistic story lines and ostentatious violence. The lack of respectability in the program, especially a lack of respect for women, was not a factor in Lee's appreciation for the talent of the female competitors.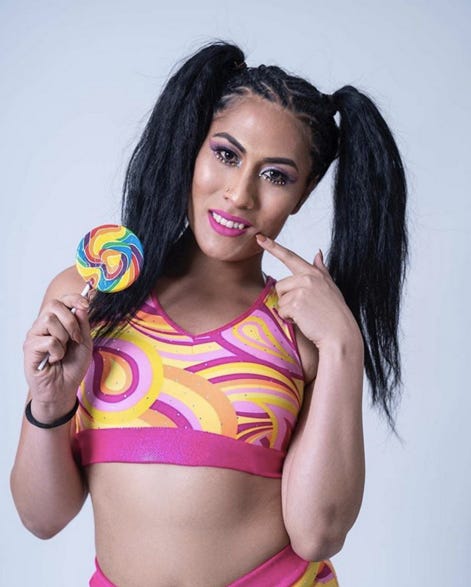 Photo by Rita Hu (@ritachenhu)
"I'm not going to shit on the Bra and Panty era," Lee said, noting her love of legendarily beautiful brawler Candice Michelle. "I live for that. I love every era of women's wrestling in the WWE. I don't understand why people disregard the women from back then. Even though they were presented as eye candy, I still resonated with them. It helped me be a fan … Seeing these very feminine women, they just embodied what being feminine was to me growing up."
In her early teens, Lee's identity became more crystallized. She began medically transitioning from male to female at the age of 16.
"I went to an all-boys Catholic school, which was annoying," Lee says. "Did not enjoy that. I felt alone there. I knew I was different and that I wanted to start transitioning, but there was no one else like me. We only had one gay couple and people were so mean to them. I didn't know if I could handle being picked on like that. What's worse, though, was that I had long hair and boys would make fun of me. I wasn't identifying as trans or anything, but they were already making fun of me because of how feminine I looked compared to them."
Lee's parents remained cautiously supportive throughout the process — and her passion for pro-wrestling never wavered. She began officially training in 2015 with one big caveat: she never realized that pro-wrestling was worked.
"I didn't know wrestling wasn't real until I started training!" Lee says. "On my first day of training I thought we had to go in and just fight each other, and I was like, 'I don't know if I can do that!' That's how closed off I was. When I learned that wrestling wasn't real I felt betrayed! It's not that magical! I laugh at myself about it now."
Lee realized from the start that her status as a trans woman would complicate the shows she participated in, but was met with welcoming attitudes from the start.
"I could tell [the people at my school] didn't have any issues, that they didn't really care because I didn't make it a big thing. I just kept to myself — I didn't really have to come out because they became my friends and they were understanding," Lee says.
The backstage politics of the wrestling world are complicated and largely secretive, with many wrestlers purposefully obfuscating behind-the-scenes decisions to protect the illusion of wrestling's "reality." But when it came to Lee's character, things got more tricky: Would a transgender heel (wrestling slang for the villain) be possible to write without relying on outdated stereotypes about trans identity? And how would crowds react?
"Being trans — I thought that me being heel would be a bad idea and [the promotion] agreed. Wrestling fans can be so mean sometimes, so if I was a heel, I worried the fans would attack me personally and not attack the character. I don't want to be a heel — I don't want to be a bitchy girl who's all about makeup, because the fans wouldn't attack [that part of my character], they'd call me derogatory terms," Lee says. "I don't think that'd be fair for me."
Lee's striking looks and powerful move set left a strong impression on audiences, who happily embraced her when she became a champion one year after debuting — making her the first transgender wrestling champion in New Zealand.
"I knew I would cry," Lee says. "I'm such a crybaby! It was special that my close friends and my parents were there to witness it. My mom was so proud she got up and danced in the aisles. I was like, 'Oh god, this is embarrassing.'"
Lee's position as a champion is a rarity in the wrestling world writ large, which continues to struggle with responsible queer representation. Yet Candy remains optimistic about the future. "I think some of the stuff that's been happening more recently in the WWE has been great," she says.
"I have such a love for representation. I love that Sonya [Deville] is open and I love that she represents our community," Lee says of the WWE's only openly queer person on their roster at the moment. "I feel like she could become a champion. It just depends on the talent themselves, if they're working hard and if they are resonating with the fans."
While certain wrestlers have found themselves averse to the WWE's hyper-corporate ethos, Lee hopes to someday accomplish her dreams and become part of their team.
Photo by Scott Lesh (@scottlesh724)
"If they asked, I would totally do it. It feels so cliché telling people that. Making wrestling a career is my goal either way … For me, it's not about being the first transgender anything. I just love wrestling. So just making it to the WWE would make me so happy. If I happen to be the first [openly] transgender person signed, that's cool — but just making it there is what I want."
With Lee setting her sights on mainstream success, it's unlikely she'll stop any time soon. That being said, she's already got the end of her career figured out: "I always joke about doing a bra and panties match as a retirement match!"
*
If you've enjoyed reading this free post, why not subscribe for more JUDGEMENT? Sign up to have free content delivered straight to your inbox, or pay $5 for monthly subscriber-exclusive content! Thank you for enduring this sales pitch.